AEON Case Study - Blackburn Park Tennis Center
Overview
For some individuals, the evening is the only time to play Tennis after a long hard day of work. Blackburn Park's Tennis Center offers 18 Tennis Courts that allows for the facility to be open for play when the sun goes down. When playing at night, consistent light levels are important to see the ball at a high rate of speed. Traditional Metal Halide Fixtures light levels depreciate and burn out often which puts a strain on player's eyes, all while increasing maintenance costs and making the facility seem visually underwhelming.
Solution
With the traditional Metal Halide Fixtures, it takes time for the Lights to warm-up and turn-on. To replace the 108 pcs. x 1,000W Metal Halide Fixtures, a photometric study was done to see what AEON Luminaires would be the best fit to provide uniform illumination of the Tennis Courts. A one for one replacement was selected for the project and replaced with 108 pcs. x 230W AEON Luminaires. With AEON LED, the luminaires turn on instantaneously, ready for players to hit the court immediately.
"We were looking for Cost-Effective Lighting Solutions, so the Lights didn't have to be changed out as often." Patti O'Reilly - Universal Tennis Academy Partner.
AEON Luminaires have a rated life of over 100,000 hours and maintains High Lumen Output over the life of the Luminaire. The AEON Sports Luminaires will last 5+ times longer than the Traditional Metal Halide Fixtures. Ballasts are also eliminated from the Circuit, additionally reducing Maintenance Costs and Energy Consumption. Blackburn Park minimized upfront costs utilizing the existing 48 poles. AEON LED Luminaires were easily swapped-out on the existing poles making retrofitting a project easy from an installation standpoint. With AEON LED Luminaires you control the lights exactly where you want the light to go even on the existing poles.
Additionally, Blackburn Park included the HyLink Wireless Lighting Control System to better control Energy Savings and Lowering Operational Costs. They can turn the LED lights on from anywhere, on their Laptop, Tablet, or Smartphone.
Savings
Prior Traditional Energy Consumption (including Ballast Draw Factor):
108 pcs. x 1,080 = 116,640W
Current AEON Energy Consumption:
108 pcs. x 230W = 24,840W
Energy Savings: 91,800W - 79%
Conclusion
The facility is looking forward to less maintenance on the lights and utilizing the controllability with the HyLink Wireless Lighting System. With 18 Tennis Courts, Blackburn Park will be a premier facility in the community for tennis events. We were glad to partner with Blackburn Park and provide Quality Sports Lighting Solutions to their facility.
If you are looking to build a State-of-the-Art Lighting System from the Ground-Up or Update your Current Lighting System, AEON has the right solution for you and your project.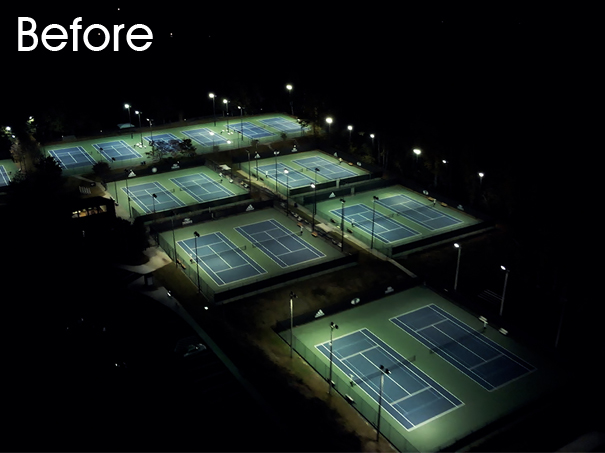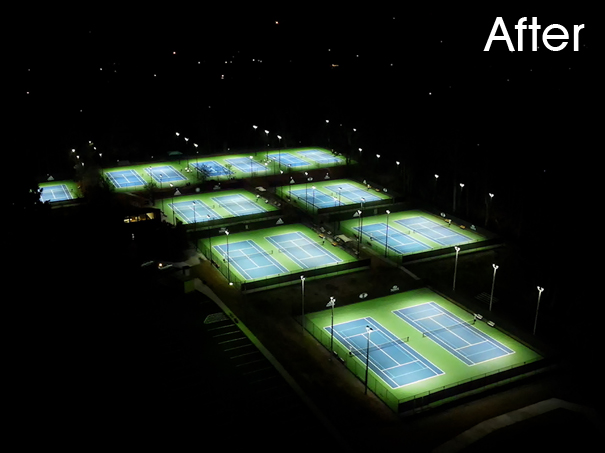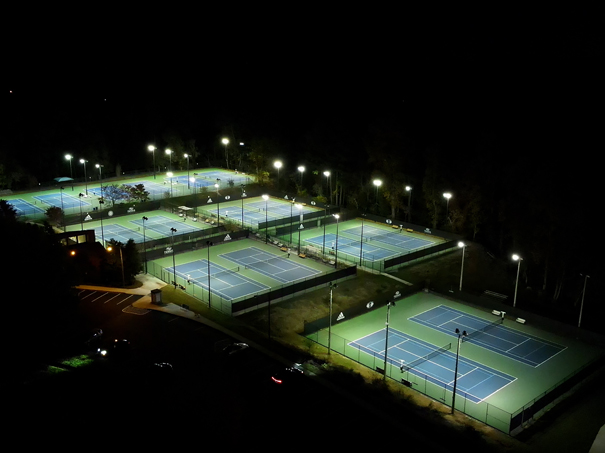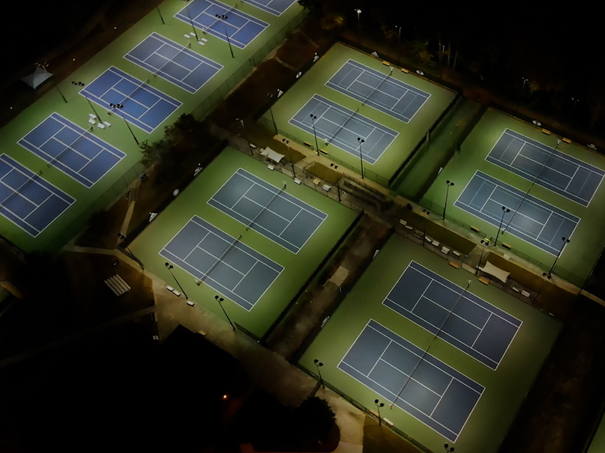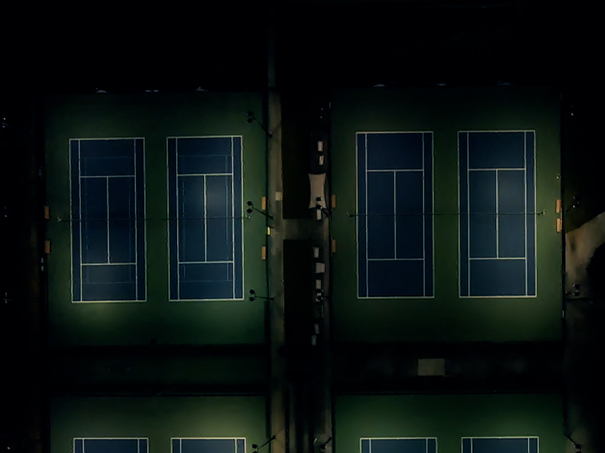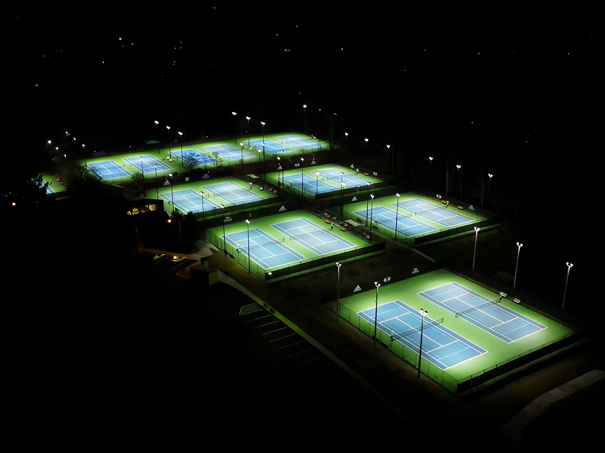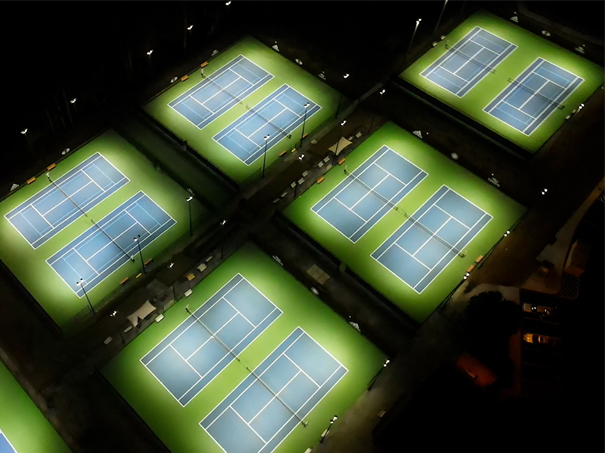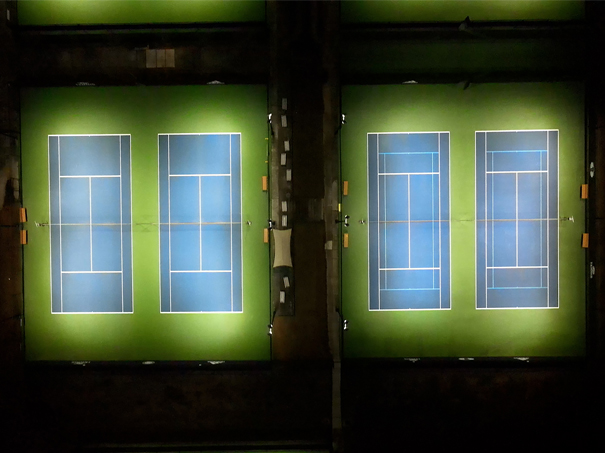 Are you interested in purchasing products or speaking with a true lighting expert? Please fill out the form below, and we will be in touch shortly!
International Headquarters
9410 D DUCKS LANE
SUITE A
CHARLOTTE, NC 28273
UNITED STATES