LED Stadium Lights
The AEON LED RGBA/RGBW Luminaire delivers Simple, Smart and Easy-to-use Full-Spectrum Color Flood Lighting Solutions that provide Advanced Functionality. Versatility and Operational Efficiency. The possibilities are endless. Designed for both Indoor & Outdoor use, the AEON LED RGBA/RGBW Luminaire is suitable for Facade, Architectural and Sports Lighting Applications.
AEON's Proprietary Optics Produce the Ideal Light Distribution and Beam Angles for a Variety of Full-Spectrum Color Lighting Applications, while saving you up to 79% in Energy use compared to Traditional Lighting. With Impressive Total Lumen Output of up to 19,000 Lumens, Enhanced Glare -Free Illumination and various beam Spreads, AEON LED RGBA/RGBW Luminaire Provides Crisp Illumination, avoiding any Visual Discomfort.
Engineered with State-of-the-Art technology for Efficiency, Glare Control, and Uniformity, the LED RGBA/RGBW Luminaire features Instant On/Off, Dimming, Full Controllability, High Energy Efficiency, Flicker-Free Lighting and Complete Flexibility.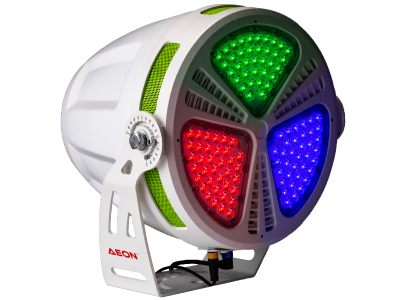 AEON can provide LED Luminaires that have Full RGBA and RGBW capabilities to bring Color, Dynamic Scenes and Excitement to your Venue or Facility! The Possibilities are Endless!
Create An Unforgettable Experience Using LED Lighting in Your Stadium
Full-Spectrum RGBA/RGBW Color Luminaire with the Highest Reliability Level: Incredibly High 95% Total Efficiency and with the Highest Efficacy in its Class
Create Dynamic Scenes and Excitement to your Venue or Facility
Suit a Variety of Indoor and Outdoor Applications
Ideal for Floodlighting, Spotlighting, Wall Washing and Grazing
Incredibly Long-Life Span of over 100,000 Hours
IP67 - Complete Protection against Dust, Debris and Water Infiltration
Operational Flexibility: Adaptable to Various Intelligent Lighting Controls: Wired or Wireless, Wifi, Bluetooth, Zigbee, Dali, AirMesh Networks, Hybrid Networked Lighting Controls, etc.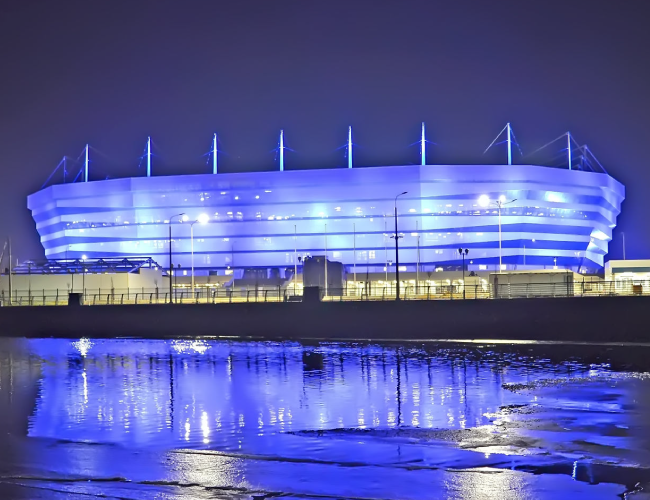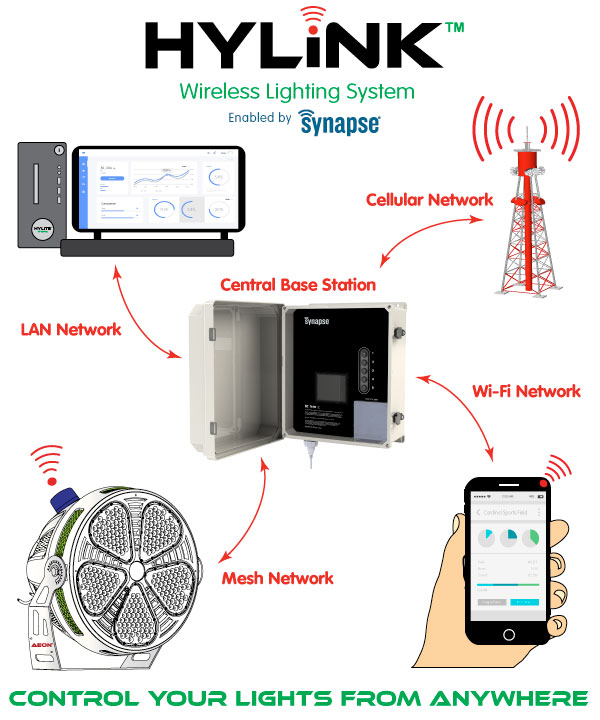 Wireless Control System
Maximize Energy Savings - Graphing of Power Consumption and Voltage
Works both Indoors and Outdoors - No Need for Separate Control Systems
Site Based Control. Functions with and without an active Internet Connection
Secure Connection to Site Controller via Wi-Fi and/or LAN
Data and Events Stored on Local Site Controller
Control from your Laptop, Tablet or a Smartphone
Flexible Control Solutions - Control Individual Luminaire or Groups of Luminaires
Multiple Zones, Behaviors, and Events
Fully Integrated Lighting Management System
Fully Scheduled System based on Automated Schedules or Events
Limitless Flexibility and Customization
Maximize Performance: Manage your System from any Device and Easily Monitor and Adjust Lighting Controls to Maximize Energy Savings.
For more information click here
Precision, Glare-Free Optics
Proprietary Glare-Free Illumination: No Uncomfortable Sensation or Visual Discomfort for the Players, Spectators or the Broadcast. UGR <19
Precise, Custom-Engineered Optics with Controlled Intensity and Uniformity: Excellent for HDTV Broadcasting, Slow-Motion Flicker-free Recording and Digital Photography. Maintains Delivered Foot Candles over Luminaire's Life
High Color Rendition showing True Colors: CRI >85 (Amber/White)
Scalable LED Modules in NEMA 2, 3, 4, 5 and 6 Beam Spreads allows for Optimized Configuration for different Sports and Class of Play
Various Delivered Lumen Packages to suit a Variety of Indoor and Outdoor Sports
Proprietary Design offers Uniform and Constant Light Levels throughout the Life of the Luminaire, with Minimal Lumen Depreciation
Avoids Light Pollution and Trespass: Optical Accuracy Directs Light precisely where needed without Spill
Neighborhood-Friendly: No Spillage or Sky Glow when using LED lighting in your stadium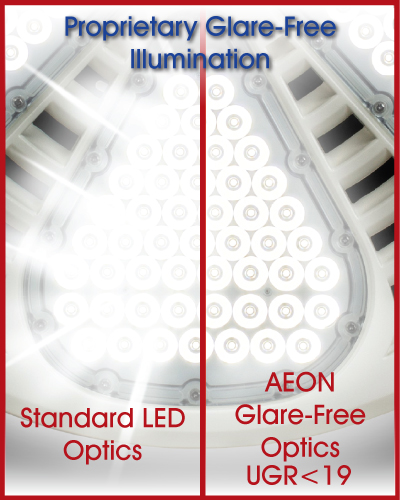 The Possibilities are Endless!
Color Your World!
Request Catalog
Request A RGBA/RGBW Catalog
Fill out your information below, to receive a PDF download catalog for AEON RGBA/RGBW Luminaire.
Are you interested in purchasing products or speaking with a true lighting expert? Please fill out the form below, and we will be in touch shortly!
International Headquarters
9410 D DUCKS LANE
SUITE A
CHARLOTTE, NC 28273
UNITED STATES