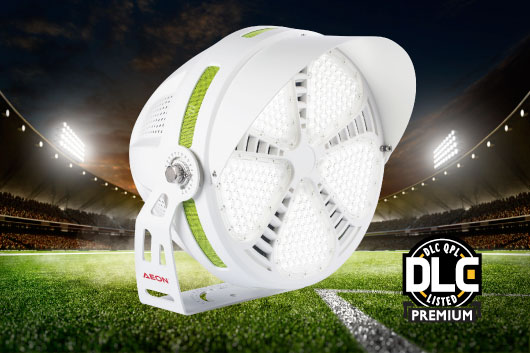 Introducing the most rugged and powerful LED Sports Light in the industry, the AEON LED Sports Light is specifically designed for Municipal, High School, Collegiate, & Professional Indoor Arenas and Outdoor Stadiums. With an incredibly long life span of over 100,000 hours, the AEON LED Sports Luminaire is available in five different delivered lumen packages: 33,100lm, 44,100lm, 62,100lm, 73,500lm & 105,000lm, along with Multi-Voltage options: 100-277VAC and 347-480VAC.
The AEON LED Sports Light is fully enclosed, IP67 rated Luminaire that protects sensitive electronic components from any external elements. It can withstand extreme conditions and is suitable for use in corrosive environments. Using AEON Proprietary and Patented Thermal Management System, the Luminaire allows for continuous airflow, keeping critical electronic components cool. Revolutionary Patented Aerodynamic Design allows maximum wind resistance, reducing vibration and subsequent flickering of light.
With a CRI >85 and 140 Delivered Lumens per Watt, the AEON LED Sports Luminaire has the highest CRI in its class, making it the industry leader in efficacy! Precise Optics with a CRI >85 are excellent for 4K/HD, slow-motion broadcasting and digital photography.
The AEON LED Sports Luminaire maintains a UGR <19, which avoids any visual discomfort to the players and the spectators. AEON is adaptable to various wired or wireless intelligent lighting controls. AEON can also be paired with our HyLink Wireless Control for your custom needs to maximize energy savings.
Available in various NEMA Beam Spreads, the AEON LED Sports Luminaire also incorporates field changeable lenses, making it optimal for different sports and class of play. Integrated LED Drivers with Quick Connect/Disconnect System make maintenance a breeze. AEON offers additional capabilities such as Free Photometrics, RGBW/RGBA Luminaires, Remote Drivers, Extended Warranties, and Project Financing.
AEON LED Sports Luminaires are DLC Premium listed allowing for maximum rebates & incentives from participating Utility Programs and is GSA Approved for Federal Agencies.