AEON Case Study - Slaton Football Field
Overview
In Texas, football is king, and in Slaton, TX and the community had a special treat when they kicked off the season under their new AEON LED Lights. When the lights are on, the town knows there is a game going on. It gives the big-game feel to the local community.
"The old Slaton Tiger Stadium lighting was never part of a conversation until one night, during a playoff game when the transformer burned out. It completely overheated. Over this past summer, we installed new AEON LED Lighting, which has made a big impact. Visitors and longtime fans are now asking what we did to remodel the stadium. It has made an incredible difference. It's almost like comparing old rabbit ears on a TV set to a new HD TV." -Jim Andrus Slaton ISD Superintendent
Slaton High School upgraded their football field lighting from the traditional 40 pcs. x 1500W HID lamps to the new 40 pcs. x 750W AEON LED Luminaires.
Solution
One key factor in upgrading from the old lighting system was it wasn't bright enough. It made broadcasting the games tough. AEON did a photometric study and showed that using 40 x 750W AEON LED Luminaires would best replace the 40 X 1500W Metal Halide Fixtures. AEON Luminaires are also neighborhood friendly, making the light go onto the field and not on the surrounding properties. No light spillage or sky glow. The light goes exactly where you want it to go.
Slaton High School's Football Field is getting better quality light with 53% less energy consumption. The 750W AEON Luminaires dramatically improved the visibility on the field and for spectators. AEON Luminaires have a high color rendition showing true colors: with a CRI >85. In addition, AEON's Proprietary Glare-Free Illumination (UGR <19) makes for no uncomfortable sensation or visual discomfort for the players and spectators.
"Colors are more vivid, there is much more clarity and definition when looking down the field, and the uniform lighting throughout the stadium is simply remarkable. Shadows are gone! I know we are saving money because of the efficiency of LED, but I would recommend this system even if there were no savings. It's better than a fresh coat of paint on an old barn, but with these lights, you'll know much sooner when the old barn needs a touch-up. We couldn't be more pleased." Jim Andrus Slaton ISD Superintendent
The AEON Luminaire's proprietary thermal management system allows for continuous airflow keeping the Luminaire cool in the Texas heat. AEON's Proprietary Design offers Uniform and Constant Light Levels throughout the Luminaire's Life, with Minimal Lumen Depreciation. Additionally, with a rated Luminaire life of up to 100,000 hours, the AEON Luminaires will last over five times longer than the old Metal Halide Lamps. Ballasts were also eliminated from the circuit, additionally reducing maintenance costs and energy consumption.
Savings
Prior Traditional Energy Consumption (including ballast draw factor):
40 pcs x 1,610W= 64,400W
Current AEON Energy Consumption:
40 pcs x 750W= 30,000W
Energy Savings: 34,400W - 53%
Conclusion
The new AEON LED Luminaires provided the LED solution that will last Slaton for years, allowing the school to spend their time, money, and resources on more productive projects instead of changing out failed lamps and ballasts. Better light with less energy consumption! With instant ON/OFF capabilities, no more waiting for the lights to turn on. Less energy is used and more time to use the lights. Everyone is happy with the new lights, administration, students, parents, and the community. AEON LED Lighting is a win for everyone!
"We are grateful our admin took care of us updating our fields with these new lights and would highly recommend these lights. The new Lights are brighter and clearer with more range. We've had a lot of positive comments about being able to see the field lights from anywhere in town." Lawrence Johnson Athletic Director/Head Football Coach Slaton ISD.
If you want to build a State-of-the-Art Lighting System from the Ground-Up or Update your Current Lighting System, AEON has the right solution for you and your project.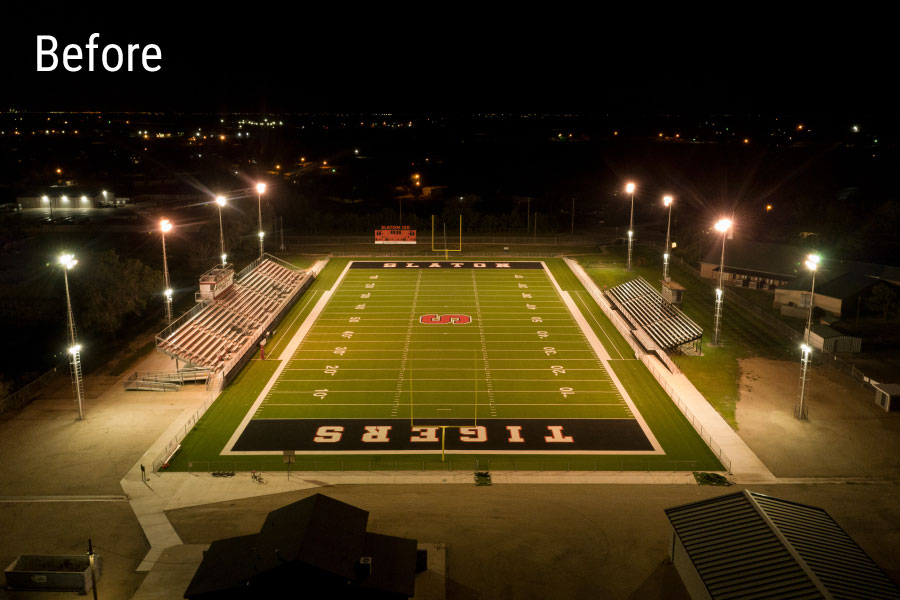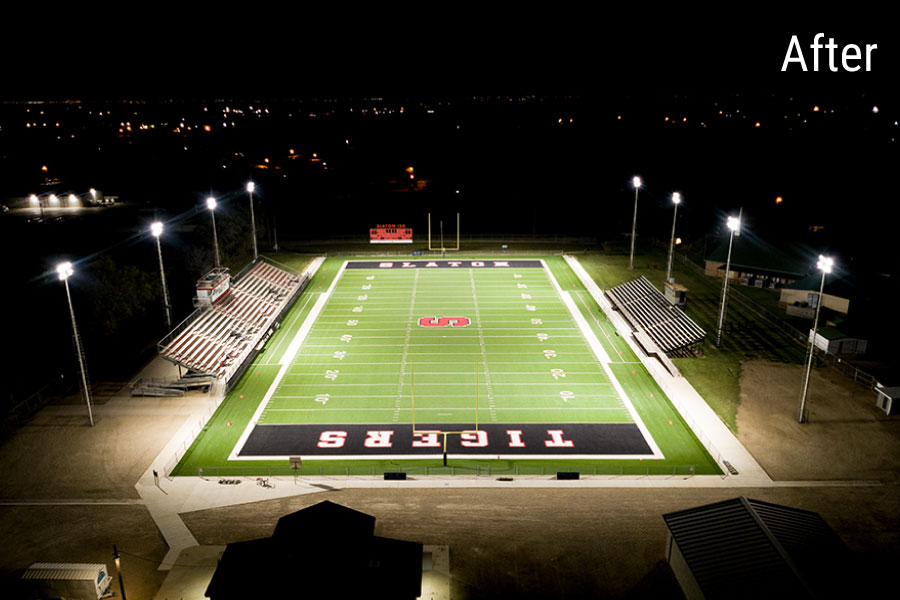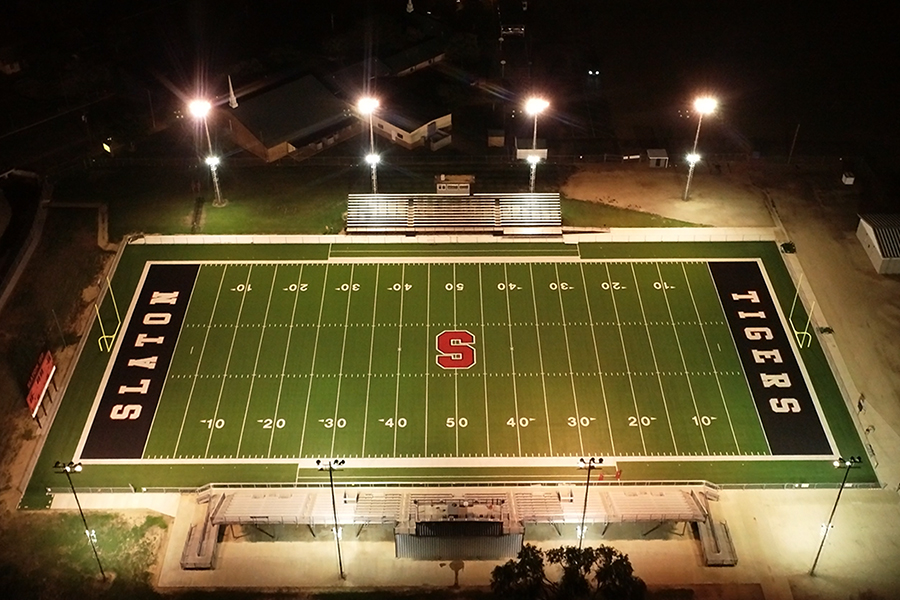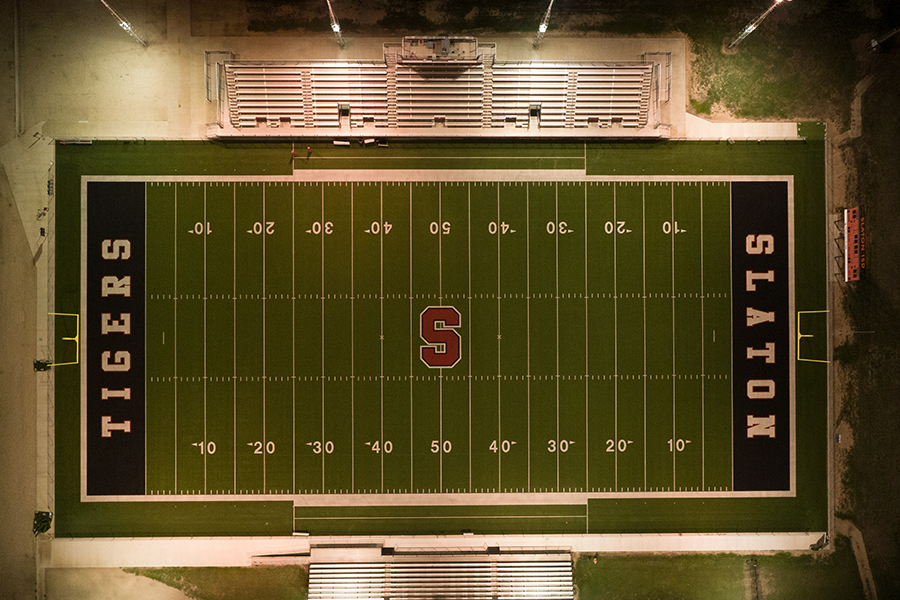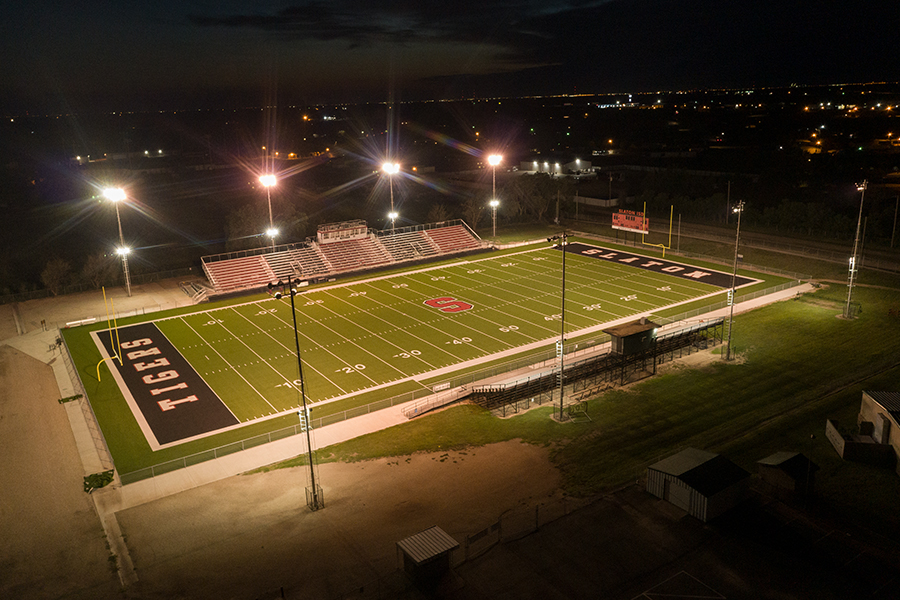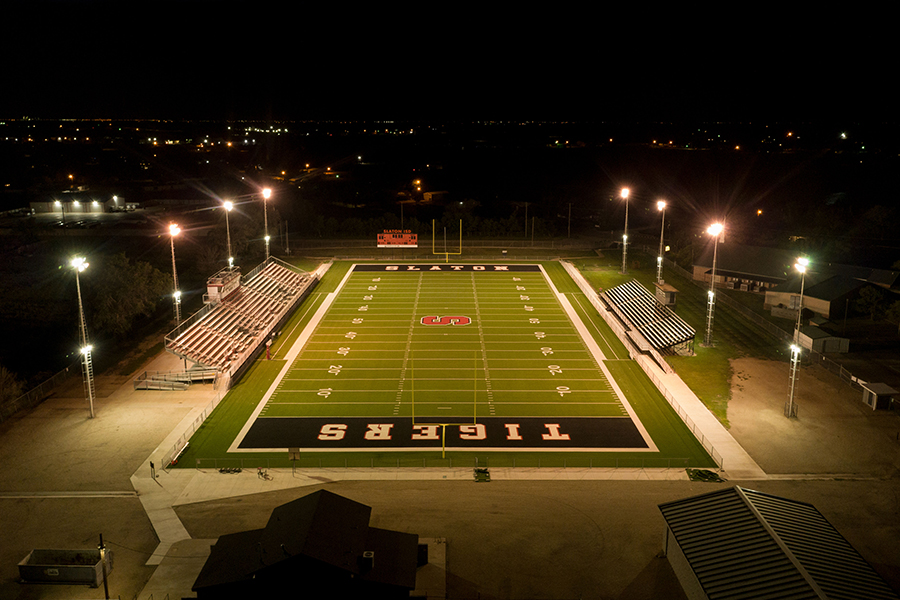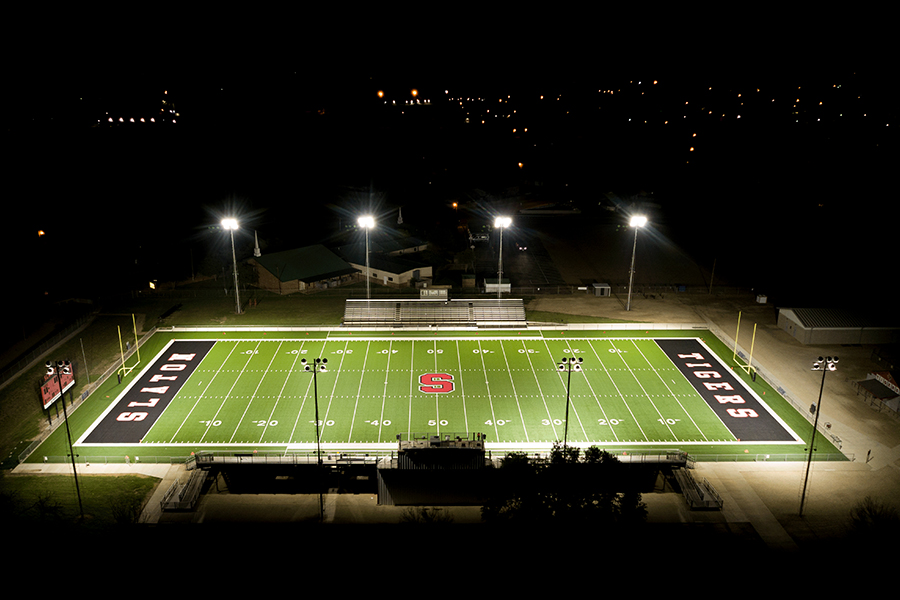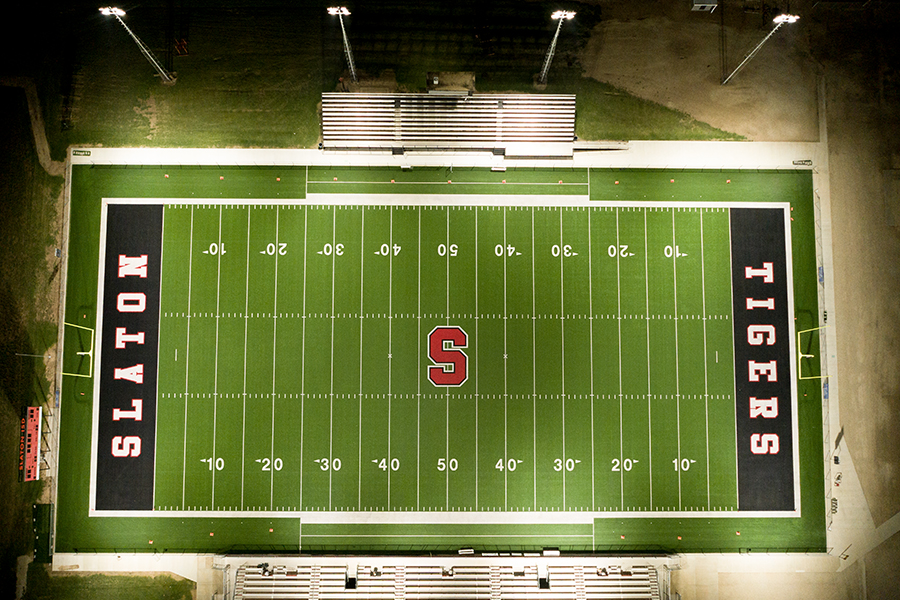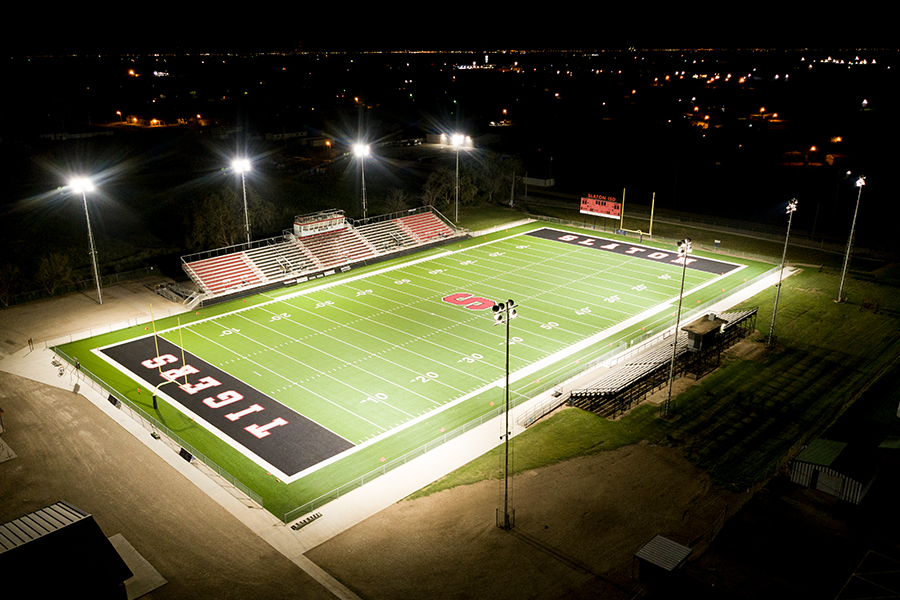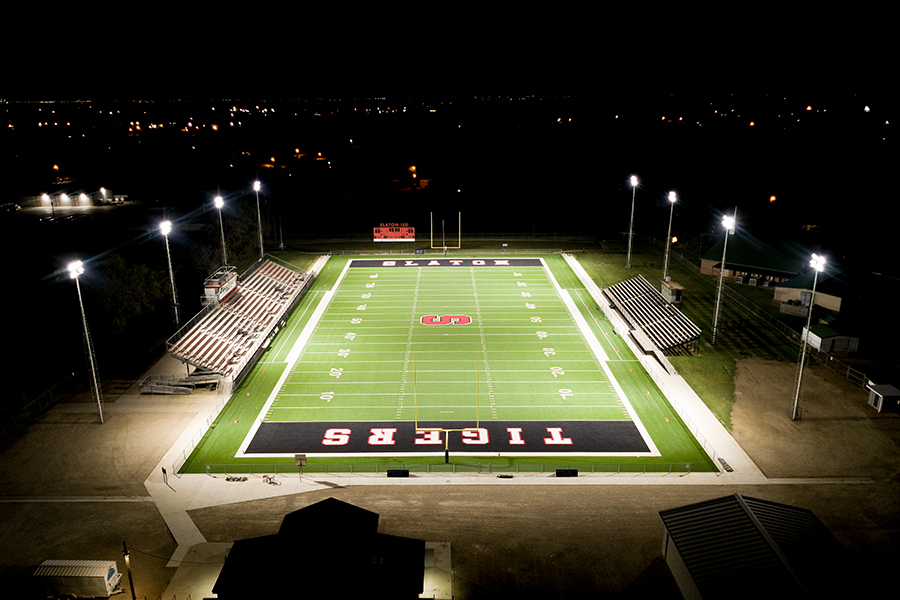 Are you interested in purchasing products or speaking with a true lighting expert? Please fill out the form below, and we will be in touch shortly!
International Headquarters
9410 D DUCKS LANE
SUITE A
CHARLOTTE, NC 28273
UNITED STATES