Keeping a football field or stadium well lit is critical both for the success and safety of players and for the experience of the audience. AEON LED makes it easy to provide your facility with effective and efficient lighting. Our LED Luminaires provide clear visibility, extended longevity, and improved efficiency to make your facility as safe and pleasant to use as possible. If you're shopping for football field lighting, trust the superior products from AEON LED. Reach out to our team today to see how AEON LED Luminaires can improve your lighting and the functionality of your stadium.
Improved Safety and Security for Football Fields and Stadiums
Keeping your football stadium and those who use it safe requires two things. First, you must eliminate security risks. Second, you must ensure a safe playing field, no matter the circumstances. Improved lighting does both.
AEON LED Luminaires have a wide beam angle to spread light over a large surface area. They do not grow dim with time and offer instant-on lighting that is as bright as it can be the moment you switch on the power. A high Color Rendering Index provides clarity on the field and in the stadium, and the expansive light eliminates shadows. This improves safety and security, reducing the risk of unwanted access to the stadium and improving safety through better visibility for both players and spectators.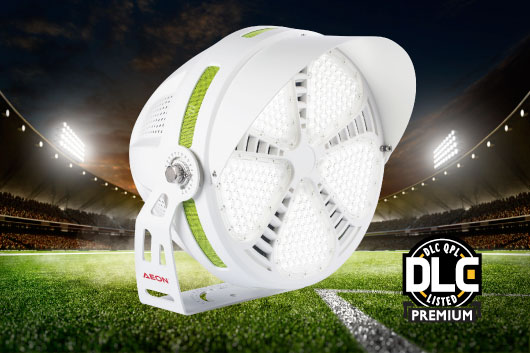 Reduces Energy Costs with LED Lighting Technology
In addition to improving security, our football field lighting can help your facility cut energy and maintenance costs. These lights have some of the most extended lifespans in the industry, and they contain proprietary technology to reduce heat damage. This means they can burn bright for many years, eliminating unwanted replacement costs.
The luminaires are designed to resist damage from impact, water, and dust, so they're safe for use outdoors in any environment. They also use significantly less energy than other types of lighting, so your energy bills will go down. Because the lights are impact and heat resistant and are designed to burn for years, your facility will spend less on lighting maintenance.
Glare-Free Lighting for Improved Broadcasting
For football field lighting, not only do you need to consider the comfort and safety of the in-person spectators, but you also need to ensure the field is appropriately lit for broadcasting, including high-definition broadcasts. AEON LED Luminaires create as little glare as possible with a UGR of less than 19 (UGR<19). They also have the highest color rendering index in their class with a CRI>85, which means they render colors as close to natural sunlight as possible.
This improved visibility means they meet the demands for most broadcasting, including high-definition video, so you can televise events from your football field without concern. The quality of our lighting is so high that it is the lighting option of choice for many professional and college-level football teams.
Football lighting is critical to keeping players safe and spectators comfortable. Efficient football field lighting helps you manage your operating costs. AEON LED Luminaires meet both of these demands. As you consider your lighting options, reach out to the team at AEON LED to learn more about our efficient and long-lasting Luminaires.